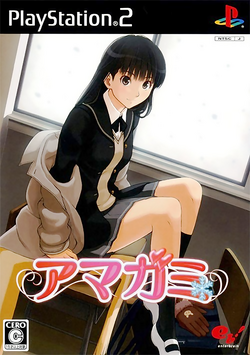 Amagami (アマガミ, Gentle/Playful Bite), is a Japanese dating simulation game for the PlayStation 2 and the spiritual successor to KimiKiss, both which were developed and published by Enterbrain. Amagami was released on March 19, 2009. As of November 2010 six manga adaptations have been produced: two serialized in Enterbrain's Famitsu Comic Clear, two in Hakusensha's Young Animal and Young Animal Island, one in ASCII Media Works' Dengeki Maoh and one in Kadokawa Shoten's Comp Ace. An anime adaptation titled Amagami SS aired in Japan from July 2, 2010 to December 23, 2010.
Gameplay
Amagami is a romantic simulation game, that features a unique system, that allows you to progress with the story in a non-linear fashion by choosing various tiles on the "scenario" map in desired order. After choosing a particular tile you're taken to the corresponding scene and successfully completing it usually unlocks more tiles allowing you to further progress with the story. There're six main characters in the game, and one extra character that's unlocked after meeting certain requirements. The time limit is forty days, in that time you have to become close enough with one of the characters, otherwise you reach a bad end.
Trivia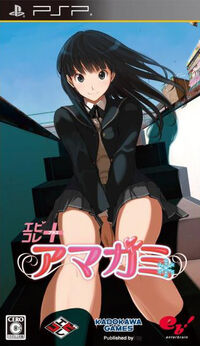 It is the spiritual successor of KimiKiss.
The outcome of the game depends on the way you are playing.
This game features a Mahjong minigame.
Another game was released, called EbiKore+ Amagami (エビコレ+ アマガミ) which is a port of the original game. It was released on March 31, 2011 and can be played via PlayStation Portable or PlayStation 2. Along with the original Amagami game, the PSP port also features a playable Mahjong minigame. The game requires at least PSP Firmware 6.31 to run.
Community content is available under
CC-BY-SA
unless otherwise noted.